Gidget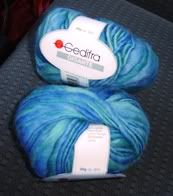 I apologize for the dark and not so good photo but I took this in my car with the dark gloomy winter sky as my light.
Mail brought me a wonderful prize today from
Gidget Casts On.
A few weeks ago (or something like that), I
suggested
a pattern stitch for her father's scarf and today I received a PRIZE for my suggestion. Not only does her Dadscarf look awesome but I have more YARN! I really like how she combined two pattern stitches to make such a wonderful present. Now I need to sit down and decide what to do with this new treat! I love thinking about new projects and exploring all the possibilities. Sometimes the pre-planning is more fun than the actual project. In pre-planning you have so many opportunities and so many choices, your imagination can take you anywhere.