Family Addition
Yo! Phoenix here! Remember me? I'm Rebecca's doggie nephew. Well my parents went out and got me a SISTER! Yep! We have the same parents which is cool and she's real small but so far, I think I like this new one. They call her Pandora. I call her ARFFF! GROWL! ARRRFFFF!
Rebecca showed her yarn tonight. Yum! I remember the taste of yarn. Hey Pandora, think I can get a taste?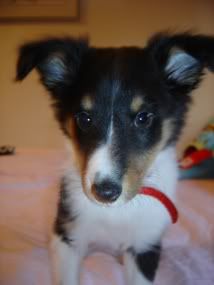 This is Pandora's serious face. She hasn't figured out that she's too small for a serious face yet! They tell me she'll get bigger but I think they are crazy! She'll be little FOREVER and ever!
OK I gotta go play with her now. This is so much fun!