Missing Matya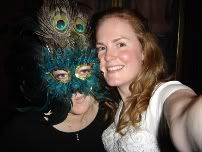 It has been 1.75 days since Mot left. Since she flew off to Ecuador for FIVE long weeks, which means I will be without my Motty for FIVE weeks. Five weeks where I can not call her after work and breath on the phone because I don't really have much to say but I just want to talk to her. Five weeks where I can't go to Taco Del Mar with Mot and be forced to speak bad Spanish. Five weeks where no one will montior my yarn acquistions. Five weeks where there will be no carpe diem with the Mot.
I'm not sure how I'm going to survive this but before Mot left she told me that I would be fine. You see Mot will be fine without me because she'll have five weeks of adventure but ME, I'll be here living my life without one important piece. AND that is so unacceptable.
I do know that Motty will have so much fun and she is going to learn so much.
So Motty have a great time in Ecuador (see I remembered where you were going) and bring me back lots of stories of your time down south!