Nuthin much to say...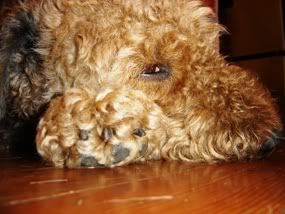 Old Photo from last time I visited Roux
Roux and I are spending some quality time together this week while his Mum visits friends in Portland and family in Charleston. Last night was my first night there and the memories came flooding back. There was the crazy bark fest at the bottom of the stairs while I attempted to watch television, there was the cold nose on the back of my knees while I made dinner, the snuggle fest while I read Proust and this morning the grand barking at 7 a.m. (right about now, I'm sure the neighbors LOVE me!)
This weekend, we'll see Andi for one night, play with Zubin and have Roux's cousin, Hershey over to spend time with us next week. Let me just say that the fun has only begun. Bark Fest 2005 is on!