Stripity Socks
On Sunday night after visiting the yarn store (gift card in hand!) and staring at my new
Calmer
book, I decided to cast on for some Rowan Calmer Socks. The luscious feel of the yarn felt yummy against my hand as I knit.
Last night at Ferals,
Ryan
taunted me about the size of my new gorgous Calmer socks so I did what any other insane knitter would do -- I flicked off my shoes and promptly placed that sock on my foot and my foot on the table!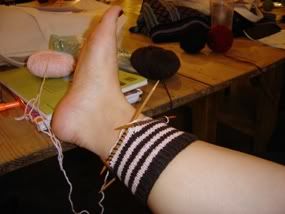 It fit and shut Ryan down. Well for a bit, then she found something else to taunt me about. I love that Ryan.
The Ferals also assisted me with finishing my Manos Sweater! Photos to come soon! Just in time for fall and a few days ahead of my self-imposed schedule --- I have a FO!