Finishing Surprises
Last night I arrived home after an uneventful run around Queen Anne and quickly located a present from my Secret
Inside was a delight!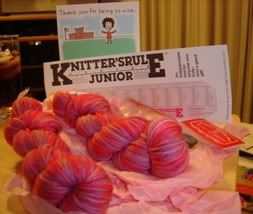 There was beautiful yarn, ring markers, an awesome knit gauge ruler (I've tested it out already and love it!) and a wonderful present for Miss Destiny. It is a pole with a fuzzy something attached to the end, like a fishing pole, which you stick on a window. I quickly stuck her present to the sliding glass door and Destiny came running in from outside to investigate.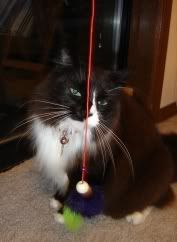 In fact she spent most of the night hunting her prey and refusing lap time. I'd have to say this was a hit!
I also finished one of my Calmer Socks and it is delicious to wear! Now my other foot needs a sock to keep it warm.