Trellis Update
I've been plugging away at
Trellis
in my spare time this week (which has been scarce) and mentioned to
Karen
that I had made a mistake.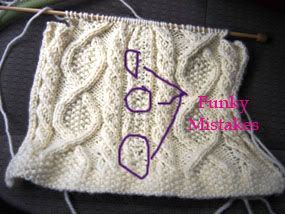 And Karen, being the master knitter she is, suggested the I rip back and use double pointed needles to make the fix. I knew it had to be done but I was scared to do this! What if I messed up and had to re-knit? That would have caused the sweater for Baby Ethan to be tossed aside and screaming to have occured. Since I didn't have any double-pointed needles in the correct size, I ended up using some circular needles.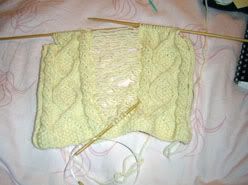 Luckily no screaming occurred and no sweater tossing happened, though there was a little bit of teeth nashing. In the end though, there was success! I did end up making a change from the pattern and just did the center pattern in seed stitch. I think it looks good and my only concern will be remembering what I've done for the remainder of the back.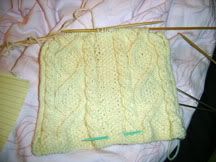 PS Check out the Katrina button over there --------> Thanks to
Susan
and
Margene
for doing this!