Falling toward the weekend
Though this work week was only 4 days, I feel like I crammed about 7 days worth of work in, with still more to get done. It's been a busy time but I've accomplished quite a bit (and that is the part I shall choose to dwell on).
Tonight I will join a friend at her house for some wine and knitting. Then once we've had enough of that, we are planning on heading over to a local pub for a friend's birthday celebration. Now that is falling into the weekend!
Earlier this week, I received an email from Momma M. She had a surprise for me and BOY was it one! Momma M loves the knitting but now it appears that she also loves the Alpacas! She loves them so much, she's purchased two! They'll be housed at a farm near her place and while she lives far away, I do look forward to meeting them one day.
Aren't they just the CUTEST!?!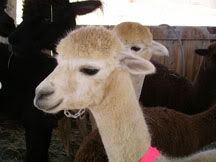 Photo Stolen from Momma M
Hmmmmm, I wonder if Momma M will be taking up spinning now?
Here's to a great weekend for everyone!