Artist's Way
I'm late to the game but I've decided to still play it. Last week, I joined the Artist's Way group over at
Kat's Blog
.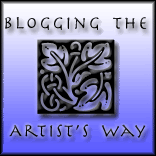 Since this is week 3, I did week 1 & 2 together last week. Week 1 eased you into the 12-week program and Week 2 was about finding a sense of identity. Week 3 is about "Recovering a Sense of Power".
So far, I am really enjoying the program. The morning pages give me time to brain dump and while it is difficult to get them done before work, I've managed it so far. I can feel my creativity expanding and my view of the world coming into focus. I'm also working on better handwriting skills and easing the hand cramp that develops while writing my morning pages.
On Saturday (before the
iPod purchase
) I went on an artist's date. I visited a few thrift stores between my home and
University Village
. I poked around the shops, some were disappointing and others were full of excitement. Once I arrived at
University Village
, I visited
Anthropologie
and
Barnes & Noble
. My artist's date wasn't everything I wanted it to be but it was freeing and inspirational. My plans for this week's artist date are even more inspirational!