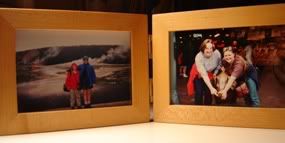 click on photo for larger view
I believe these photos were taken around the same time. Each of them feature my best friends. Each of them involved a trip.
The one to the left shows Matya and I at Old Faithful. Matya had come to visit me when I was working in Yellowstone for my second summer and our trip turned into an adventure. After a new starter for the car and an unplanned stay at the Lake Yellowstone Hotel, we had finally made our way down to Old Faithful. It was pouring down rain but we were not about to let water ruin our visit. We put on our coats and headed over to the geyser. I was wearing an atrociously colored jacket and Matya's skinny legs were blindingly white. We asked some other brave tourists to take our photo and we smiled so big because we knew this was a trip destined to star in our memories. This was also the day that my nickname, ReeBecki was born. Matya decided she would call me Park Ranger ReeBecki. The Park Ranger bit dropped off by the ReeBecki bit stuck.
The photo on the right shows Louise and I with the Pike Place Market Pig. Louise came to visit me from England after my first summer working at Yellowstone. It was our first time meeting in person though we had been writing to each other since we were 14 years old. I took Louise every where but it was at Pike Place that she was able to see the city she had already studied in movies. We re-enacted scenes from "Sleepless in Seattle" and had some great laughs.
These photos sit on my dresser so I can see my best friends every day. It has been years since these photos were taken but I am happy that I can still see each of my dear friends everyday even when they are far away.