Busy Bee
It's been another busy week. I wonder if I'll ever learn to slow down. It's too hard when one is having so much fun though! Last night I went to Andi and Roux's house for dinner and it was delicious! Andi is a great hostess even if she does get nervous about cooking times and how long it is taking the salmon to cook. I think it was well worth the wait and the desert was so good it made my mouth water with its simplicity.
Now while the food was great, the company even better, the highlight of the evening (after seeing Roux and Andi) was my presents! Andi brought me back some goodies from Indonesia and I heart them so much! She got me a black messenger type purse with sparkly dragonflies all over it. It has a nice long strap and good bag depth. I can't wait to use this bag! And she also got me a length of fabric. But this wasn't just any length of fabric. It is the perfect pink color with just the right sparkle and gold inlays. I just want to sit and be with this fabric. It's perfect and once I figure out what it wants to be, my sewing machine will be on fire! Pictures to come just as soon as I receive a little something in the mail…
Speaking of pictures….I made a grand purchase this week!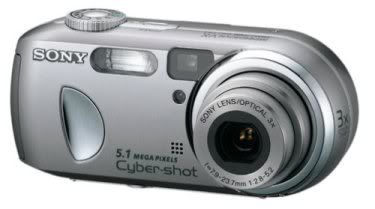 I've wanted a digital camera for some time and in a few days, I'll have one. I still love my SLR camera and I will continue to use that a lot but I also wanted to the quick satisfaction that a digital camera can give you.
I also bought some of this yesterday to make a housewarming present. I hope my dreams for this project translate well into reality.

Also, I think I need to make this in this color. Is orange the new black? What do others think?