Yarn and a Roux Farewell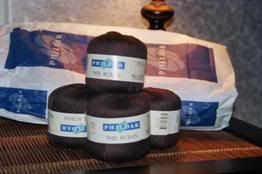 This week provided me with a wonderful package from Denmark. After what seemed to me to be an incredibly long wait (I think it was 3 weeks), I received my order of Phildar Ruban yarn in Chocolat! I plan to copy
Fluffa's lead
and make the Phildar poncho from the Phildar's Tendances 2003 pattern book.
This week also meant a farewell to daily Roux time. His Mom came home on Wednesday and seemed to have enjoyed her time in Asia. I know that Roux was excited to see her but I feel that he was probably sad to see me go. Who is going to stuff him full of peanut butter? Who is going to overfeed him doggie biscuits? Who is going to yell about his barking? Well even if he won't miss me, I miss him and all his quirks!
So I leave you today with a farewell photo of Roux. He says he'll miss being a weekly model for this blog but knows that Destiny can quickly step back into her former position as main blog pet.