Heading to Portland
I'm off to Portland for a day of work training. It will be fun to see the corporate office and learn more about my new company.
Gina (the doll) is accompanying me but I know that Destiny is jealous.
See?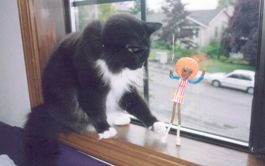 I'll get you my pretty!
Ryan
of Mossy Cottage Knits spoke at the Guild last night and it was AMAZING! People were so intrigued in her topic which was "Knitting and the Net" Ryan is a wonderful speaker who gets everyone involved and laughing!
Well its time to get driving!