PurlyGirls
I finally met the
PurlyGirls
in person last night and they were even more fun in person! I arrived shortly after 6 p.m. and casually swept into the Blue Room at the Capitol Club as if I knew what I was doing. I quietly cranked away on "Elise" but couldn't hold myself in and started introducing myself to everyone. It was FANTASTIC!
For one thing, I'm almost done with the front of "Elise"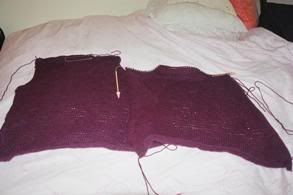 and for another thing, I loved this group. They had so much to discuss. Patterns were being passed around and I was able to eye the new Debbie Bliss pattern book. (Must buy Debbie Bliss book!) I'll be back and hopefully it will be next Monday.
Destiny even approves of the new Debbie Bliss designs and off my nearly completed tank sweater just in time for Fall!