30 and going strong!
Whew! What a weekend! There was celebrating, there was fun, there was too much!
Mot threw a party for me at a local bar who was hosting a "Bad Santa" party. It was a blast! She was sneaky and all my favorite people were there from Andi to Julie and Eric, Suzanne, Kate, and Adrian. Stephanie was very instrumental and took me to The Melting Pot before the bar. She was even kind enough to drive me back to Mot's after I imbibed too much. She's a true friend!
Mot and my parent's contrived and made me a poster showing all of my 30 years.
And this weekend after a fantastic meal at
Marrakesh
, I got to meet my new fuzzy nephew, Phoenix!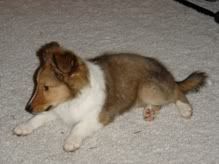 I introduced him to peanut butter as only a good auntie would. He loved it! Soon peanut butter parfaits! I'm already scheduled to watch him in February, whoo-hoo!
OK off to work and recover....