Stitch Marker Addiction
Oh I think I may have another crafty addiction starting -- making stitchmarkers!
Last night after celebrating my Grandfather's 79th birthday, I went about making stitchmarkers. See: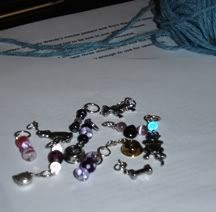 I had so much fun with them and made Ariana watch me make them. It was more fun that way and we decided on color combinations together. I think I'll need to re-visit the bead store today and on Christmas maybe Ariana and I can make more!
I don't have much else to report on today. I've started reading "The Subtle Knife" by Philip Pullman and it is enthralling. I'm also looking forward to having the next few days off. Today we get to leave work early so I'm going to do that very last minute Christmas shopping I need to get done before heading over to check on Bailey and going home to rest!
Happy Holidays!