Holidays and Clap-o-tis!
The holiday break was nice and refreshing though not long enough. It's back to the grind for me and this week will be a busy one! The team I support have a major tradeshow next week so countless hours will be spent preparing for that!
Christmas Eve and Christmas Day were spent with my family and my furry nephew, Phoenix. Phoenix was able to meet Destiny AND amazingly enough I think she tolerated him. She was very curious about him and really wanted to get really close to him but I think his endless bouncing made her nervous.
In between Halo 2 and Sims 2 playing, I worked on Clapotis and reached the dropping point. See my stitch markers...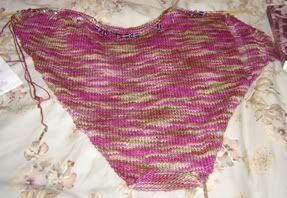 Here is a close-up of the dropped stitches. Oh! I can't wait to finish this and wear it all over town.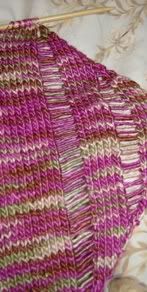 I also finished
The Subtle Knife
by Philip Pullman. I quickly picked up the third (and final) installment, "The Amber Spyglass". This is a great series and I would highly recommend it. I'll write a review on my reading blog later this week.