Clap On, Clap Off
Last night I attended Purly Girls and started Clapotis. I'm in love. After heading home and having some dinner, I stayed up way too late with my new love,
Clapotis
. I'm not even that far into the pattern and I am already knee-deep in the process.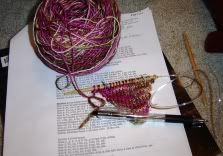 If only I didn't have to work, then I could knit on this ALL DAY LONG!
This past weekend was very busy but I got so much done. On Saturday I arose very early and after spending quite some time on my hair, I headed to the DOL. I arrived at 8:32 a.m., exactly 2 minutes after they had opened. I was 50th in line. I departed at 9:34 a.m. with a photo that showed how great my hair looked but unfortunately also showed the goofy face I made when the photo was taken. GawwwwkkkkK!
Then it was Destiny's turn for a follow-up visit to the vet. She needed to get one more vaccination shot. She acted like the ride in the car was a death sentence and while waiting at a stoplight, I snapped this photo: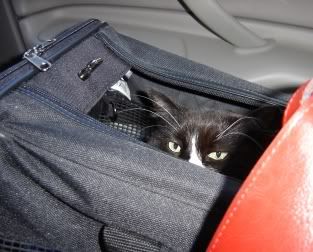 Now that is Destiny. That photo shows her true colors. She may go around looking pretty and acting loveable but I know that deep down inside, she is true cat. Her eyes betray her.
Birthday Countdown: Only 5 more days until I turn 30!