Peek into Secrets
Last night I worked long and hard on my secret project while waiting for my car recall repair (the fuel pump or something very important was recalled on my new car costing me $0 but providing me with plenty of knitting time) and I am really loving it! In fact, once I finish this one, I think I'll be making one for myself. Today I give a glimpse of said project.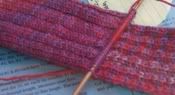 Oh I'll be finished with this in time for my deadline. I need to get this mailed off quickly! I'm also excited because once the secret project is off my needles, I get to cast on for Clapotis!
Also today is my this cool man's birthday (shown here with my Mom)! Tonight the family is taking him out to dinner and if he's good, we'll be giving him presents!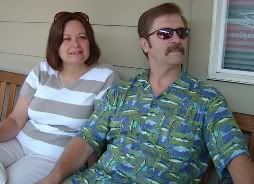 Happy Birthday Dad!
Birthday Countdown: 9 days until I turn 30.