Best Better Pal Present
Last night I returned home after an extended stint of housesitting. It felt nice to be home with my cat and all of my yarn (I miss it when I'm away). Nicely placed on my bed was a delightful looking box. I quickly ripped open the box to see...
PRESENTS from my Better Pal!
There was squealing as I ripped open each present to discover a plethora of goodness.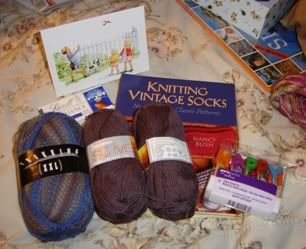 I was stupidly holding the knitting needles in my hand when I took this BUT you can see them above with the wrapped presents.
This is just about the coolest thing ever! There was sock yarn, chocolate, birthday candles, Nancy Bush's Vinate Sock Knitting book (I stayed up late reading this!) AND also inside, I found the most adorable miniture knitted sock!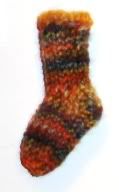 THANK YOU THANK YOU THANK YOU Better Pal! I don't know what I did to deserve all this but I LOVE it! THANK YOU!