Contemplation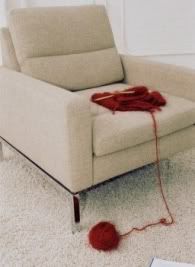 Meg
and I were emailing back and forth the other day complaining about our lack of knitting ennui. Meg talked about how she was ready to get back knitting again and it made me think about how it would be nice to knit without a deadline. And while we both have the desire to knit, knit, knit, for some reason, we both seem stuck in the planning mode. The mode where you flip through pattern books, hold your yarn, read labels and dream about what the yarn could become.
I think this mood just fits nicely into the time of year. It's one of new beginnings and why shouldn't our knitting be thinking of great starts itself?
For me, there are also thoughts of organization so my craft can be better without the distraction of clutter. I want boxes, sheet protectors and more space so I can stretch with my knitting but first I need to really think about what I want because maybe I'm just cluttered in my heart which would be just fine in itself too.