The Sky Is Falling! The Sky Is Falling!
The end is certainly near or else Motty has been taken over by aliens. I'm not sure which but last night Mot came over to visit and she brought along my Christmas present. One was not a huge surprise since we have a tradition. She always buys me a new calendar. Each year it is about a new country and this year is SPAIN! The second part of the present was a HUGE surprise! A HUGE SURPRISE!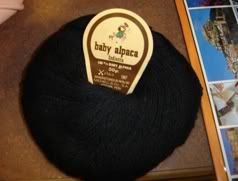 I mean last week, Mot asks me to knit her legwarmers and then this week she gives me YARN. And not just any yarn, Baby Alpaca yarn from Peru!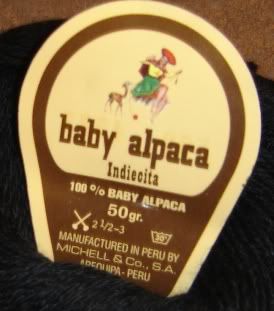 I'm not sure if you can read the tag, but it says Peru right there! How freaking awesome is that?
THANK YOU MISS MOTTY! I'm quite lucky to have a best friend like you!
So last night after Mot headed home to pack and I was busy taking photos of my latest stash addition, Finnely and Swat decided to Ham it UP!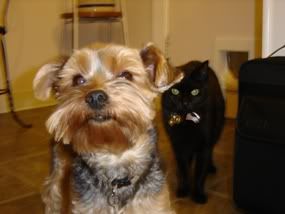 I am the best dog ever! Who is that behind me? Can I play with the kitty? Pretty please! PLEASE!
Well, Finnely was being a ham. Swat was showing off her lovely self.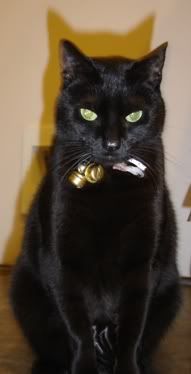 Human, Realize my beauty. Bow down to me! I am the kitty god!
Last night was my last night with the animals. Tonight their Mom comes home and I finally head back to my own house. I'm ready to sleep in my own bed! I love housesitting but coming home is always the best!