Chunky, Quickly
Lara is still moving along at a great pace but last night I decided to cast on for the second France scarf. This one is for Jen. Again I apologize for the crappy photo but let me tell you, daylight is scarce here!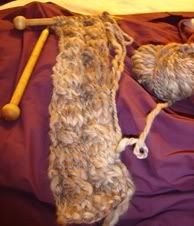 I love the colors and texture of Rowan Biggy Print and this scarf is practically knitting itself. I'm already on the second skein of three so I forsee a finished scarf by tomorrow.
Last night I also purchased some stitch marker supplies and went to work. I made a few for my secret pal but I think I need more practice. My Dad tried to placate me by saying they were great but I'm not sure he was telling me the truth.
Tomorrow 20 miles!