Lara-alonging
This Lara sweater has completely grabbed my knitting attention. In fact, I think about knitting most of the time. It's growing along and each new step excites me. I sense that this will be a great sweater and the yarn is so wonderful!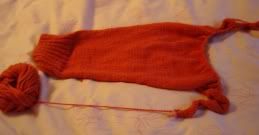 I apologize for the crappy photo but its the rainy season and there is a lack of sunlight around here.
As you can see from the photo above, I'm only 20 rows from dividing the front and back. Depending on how my evening goes, I hope to get there tonight.
Whew, I'm actually out of words today so I'm going to sign off with this short post and continue along my merry way.