Bloggers Weekend
I was blog crazy this weekend. Of course, you wouldn't know that since I haven't posted since Thursday!
It all started on Friday with a phone call from
Carolyn
. I will admit freely here that I was a dork! I didn't know who had called me and was convinced that she had the wrong number. After a few moments of confusion (on my end), we got down to business. There was much to discuss. And I wish I had more time but there will be other calls and other emails.
Saturday dawned with a visit to
Ryan's
for a Knorthend Knitters Mossy Cottage Fiber Commune Second-Brownie Knitting Jubilee. And Jubilee we were! I got to meet the famous TMK! And I have proof!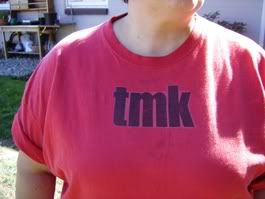 And I got to adore Frankie and torment Ryan when she couldn't get my poncho over her head since I made the opening too small!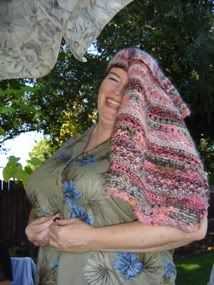 I'm sure she thought she'd have that pink thing on her head for life!
I so throughly enjoyed myself at the Jubilee and took the chance to start
Lara
. It was time for the Knit-along to start!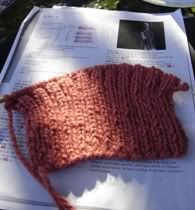 I'm adoring this sweater already. The yarn is super smooth and silky.
Sunday was an early morning wake-up call to watch my friends finish the Portland marathon. Suzanne and Merc did great! They even had enough energy to smile after the race.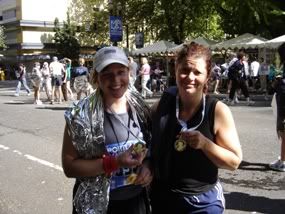 After cheering them on and having some lunch, Stephanie and I made our way over to
Larissa's
art gallery to check out the meathead installation.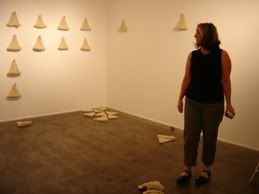 It looked fantastic! My only sadness is that I can't be there on Thursday for the gallery opening party.
And all through the day I worked on Lara wherever I could. I finished the sleeve and have moved onto the body.
I even brought Destiny home a toy, a catnip body pillow! You can see her enjoying it along with my Lara sweater.
Last night I found her sleeping with it.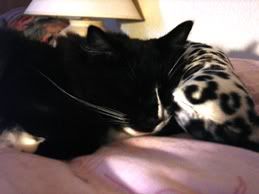 ahhhh!