No Title
Last night I was able to find time to attend the knitting guild and I am so happy I did!
After the meeting,
Marti
told me to hold out my hand and dropped some BEAUTIFUL stitch markers into them.
Ryan
got into the giving to Rebecca mood and gave me one of her stitch markers too! The second best part is both of these ladies have agreed to teach me how to make my very own stitch markers!
Destiny was also enticed by the markers this morning when I tried to get some photos of them.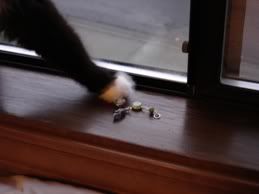 These markers were quite hard to photograph.
Here are the best two shots I could get.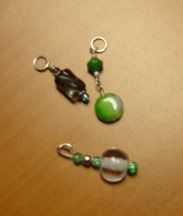 The marker on the bottom is from Ryan and the other two are from Marti. Thank you!
After receiving my prizes,I went to Third Place Books to knit with
Jessica
. I grabbed a wonderful chocolate biscotti from the Honey Bear Bakery and found a table to wait for Jessica. After waiting for awhile, I began to fear that I was at the wrong Third Place Books. I felt so bad! Turns out that Jessica went to the Ravenna Third Place Books and I went to the Lake Forest Park Third Place Books! I always forget that they added on the Ravenna location. Jessica and I will have to try to meet up again soon and this time, I'll make sure I understand the end location better!