Chic Knitting
I've been wanting to knit
this
sweater since it was published in 2003. In 2004 while unemployed, I spent $35 and purchased the yarn required for this project. (Did you read that!?! The yarn only cost $35!)
Then this past weekend in 2005, I decided to cast on and whoa! this is wonderful! My only issue is that purling cotton yarn on metal needles hurts my hands. Doesn't hurt to knit, just to purl!
My Sitcom Chic has already been many places with me.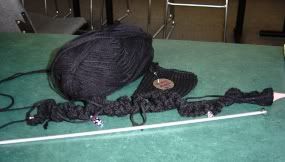 To Clase de Espanol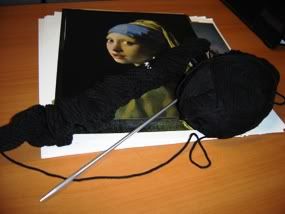 To work to dream about Vermeer paintings
AND I'm taking her to San Diego with me this weekend. I leave tomorrow for a quick mini-break trip to San Diego to visit my friend, Kenn and to see Mot's parents!
Kenn has already planned many fun activities for us, including a trip to Tijuana and a wine-tasting adventure. I'm just happy to be going somewhere! I haven't been anywhere since November and I need trips! Weeeeeee!