Oh Baby!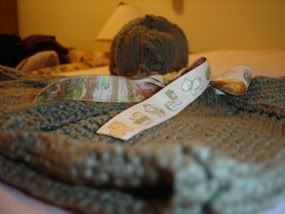 So many of you are great guessers! So great that you got the secret project correct!
I've knitted up a baby raglan sweater and hat for my soon to be born cousin. We do know the baby will be a boy but I knit the sweater in a neutral green just in case! I even found the cutest baby ribbon for the sweater's neckline at Nancy's Sewing Basket on Queen Anne.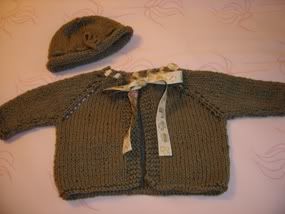 I just can't wait to see this on a little baby's body! I know there will be lots of "SO CUTE!" being yelled by me but that is to be expected when there is a cute baby around with super cute baby knits.
As for other knits, I'm almost done with my bunny and the darn Manos sweater is being sewn up BUT tonight is it's night. I will be seaming and figuring it all out tonight.
P.S. I went swimming last night and there were no incidents. No one took my kickboard and I only had to pass someone once. Of course I was passed once too but that was o.k. since I was using the kickboard.