Coming Up Babies
Have you heard? Did you see?
Kate
has some very exciting
NEWS!
I am so happy for her and the Frog! I told Kate that I was jumping up and down this morning in my cube when I saw the good news!
As for me, all I have coming up is SWATCHES, Lots and lots of SWATCHES!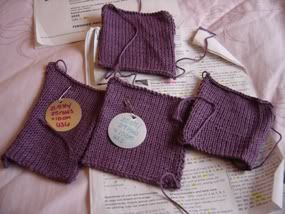 I'm working to get gauge for
this
and I'm so darn close! The pattern calls for 22 sts and 30 rows over 10 cm. So far, I've gotten 20 sts and 29 rows over 10 cm with metal US 5 needles. I've ordered some US 4 in that exact same brand and I have a good feeling. I used some other US 4 needles and almost got gauge. Who knew that needles and material type was so very important?
OK back to NEWS excitement! YIPPPPEEEEE KATE!