Weekendin'
Unlike last weekend, this one was full of fun activities and adventures! Friday night I went to an Ethopian restaurant for dinner. It was good but I'm not sure that I'll develop Ethopian food cravings like I do for Thai or Mexican.
Saturday was the fullest day of adventure-some-ness. There was swimming and a run in the pouring rain with Julie. Then I met up with
Karen
, Kit and some other wonderful knitters at Third Place Books where I worked on Mariah and new cabled-socks.
Mariah is coming along and her sleeves are looking pretty darn good!

The socks are a repeat of ones I made for
Jen
but I'm striping these with two colors of Lorna's Laces, due in part to poor purchasing of sock skeins! Duh, you need to buy two to make a pair of socks and not just one.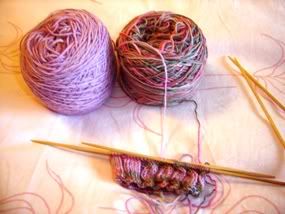 Karen also delivered my order from
Two Swan's Yarn
and here is where I gush about ordering from Karen. First of all, her prices are perfect. Secondly, if you live nearby, she hand delivers! Whooo-hooo! And Third, just order already! You'll be happy!
So after receiving my yarn order, I hurried home to swatch! Of course, since I am a tight knitter, my gauge was off for the recommended needle size so I am re-swatching another swatch in US6 instead of US5. Hopefully I'll get gauge on this one!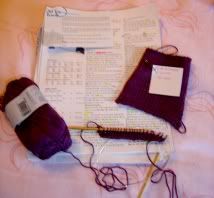 I'm planning on knitting a
sweater
from Jaeger 34. I am using the Aqua yarn which is cotton and oh so lovely. I love the way it feels and knits up. This will be a wonderful sweater! I know it!
Saturday evening was spent eating Catfish (so very good) at a new to me restaurant and then catching the movie Sahara with friends. It was a very entertaining film! I really enjoyed the adventure!
Sunday, I cleaned the house, attended a Catholic Confirmation party, did homework and finished my bunny! He can now see and speak!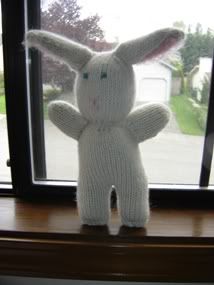 P.S. Thanks to everyone for your tips on seaming up the sweater! I'll be getting to that soon. Really! I will!