Proving the Reality of Matya
A few weeks ago at Ferals,
Ryan
mentioned that she didn't believe that Matya existed, even though I often show photos of her. Not one to let a comment like Ryan's go by, I contacted Matya and told her she needed to visit me during a Ferals meeting. Last night was the NIGHT! They gabbed together like old friends and shared travel experiences.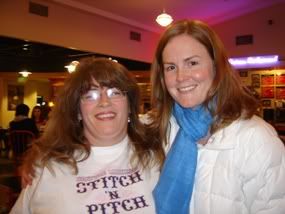 Matya later told me that she enjoyed meeting Ryan. Of course the two of them came up with a new theory about Mot. Geesh!
I also started working on another Dulaan Hat last night out of some Bulky Lion's Brand Wool and a free skein of Phildar that I recently received. This hat will be very hard to give away as I am slowly falling in love with it!