Yarn and Cupcakes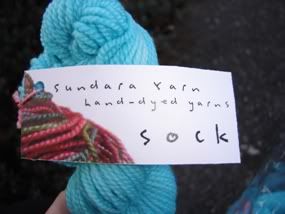 Have you seen the new yarn on the town?
Sundara Yarn
! As soon as I saw
Purly Whites
(aka Sundara) was selling her hand-dyed yarn, I knew I had to have some for myself. After much pondering (there were too many colors! such decisions!) I made my purchase and eagerly awaited the arrival of my yarn. Sundara mentioned that she wanted to visit the Purlygirl group and kindly offered to bring my yarn to the meeting. I loved meeting Sundara and I loved getting new yarn in such a great color! Now I just need to decide what pattern I want to use for this great spring color.
Last week I picked up
One Skein
from
Fiber Gallery
and began knitting!
Since I love making cupcakes, I knew I had to knit one of the cupcakes in the book!
and I'm almost done with the Irregular Cabled Hat. It's just missing the pom-pom!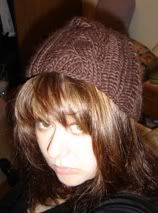 Ughhh, ignore the dorky photo of me and just admire the hat. Look at the hat!