Reading and Knitting
I've been busy lately reading and knitting. When I'm not knitting on Elise, I like to take a break and work on my sock. This weekend when I attend the Fiber Raven Soiree, Ryan of Mossy Cottage Knits will be there for moral and technical support.
Here is my sock as progress currently stands. I love it!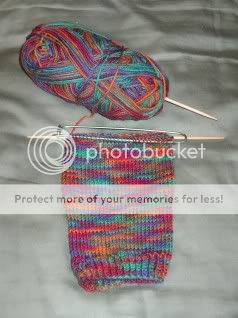 I've been working on the heel flap and that seems to be going well. I'm not at the heel turn, yet so nothing to panic about now. That will come later.
I've also dived head first into the Oprah Summer Reading Book, Anna Karenina.
Oprah
very nicely provided a "reading training guide" for this book and so I (being anally organized) put tabs in my book. This way I know how far I need to read to reach my weekly goal. Once I reach the goal, I remove the tab. By the end of the summer, this book will be tab-less!
So far I am really enjoying this novel. I've never read Tolstoy before because his books are always quite long and in-depth. After this though, I think I'll be able to tackle "War and Peace!"
I'm still reading Proust and I do enjoy him too. It's fun reading two book that are translations. Makes me think I'm a smarty pants!
This afternoon as a reward for working so hard this week, my boss is letting me leave at 3 p.m. Since a new yarn shop is opening downtown called
So Much Yarn
, I'll be heading down there to check it out. I still have Mot's (my blogging co-star) camera, look for pictures in my next post. I can't wait to check out another knitting store!
In honor of Mot, my blogging co-star who doesn't read my blog unless I make her! Here is her co-star photo as she poses with her Kid Valley shake! I'm adding it to the sidebar later!
Happy Knitting to all! I've got some running, reading and knitting to accomplish!