So Much Yarn
The new Yarn shop in Belltown,
So Much Yarn
is fantastic! Even Stephanie got into the action and was feeling up the yarn! I made her pose with one of her favorites, in pink!
And I snapped a quick shot of the owner, Lauren who was also my knitting teacher during her tenure at Acorn Yarn in the University District.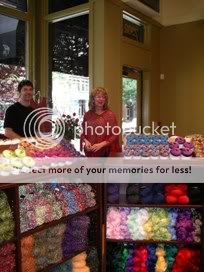 I made a few purchases but returned the camera before snapping some shots of them. I purchased another skein of Regia sock yarn, another skein of Debbie Bliss Cotton Angora for some baby booties and a slipped stitch scarf set with green ribbon yarn and pink mohair yarn. All of which are going to be great!
Tonight, Mot and I watched a Spanish flick called Kilometer 0 which I highly recommend. I also knitted on my one sock. I'm about an inch from the heel turn. Spooky! Tomorrow is the Soiree so look for an update on that fun! I'll be bringing a camera!
I also ran this morning. It felt harder but I think that was because I had marathon brain going on. I need to get back to just running in that moment. Then I do great!
Whew! Fun times! Lots of adventure with new yarn stores, running and knitting. Stephanie and I also saw The Stepford Wives after visiting the new shop and its another movie I'd recommend. What a hoot!