Awesome weather and knitting
Last night after visiting my ex-boss about watching her dogs, I took my brother's dogs out for a walk. I had planned to make it a longer walk but the cold weather drew me back in after only 20 minutes. The dogs were sad to head in but I was quite happy. I grew even happier when thunder sounded above the house just 10 minutes later. Then I saw lightening and more thunder shook the house. The dogs flew into a barking frenzy and Pandora glued herself to myside.
Seeing as I would be in for the rest of the night, I sat down and did some more knitting on the baby sweater. This really is a quick knit! I quickly knit up the 5.25 inches for the body last night and would have started the sleeves except my trusty double pointed #7's are probably at home (or I don't have any and they are actually at the store).
So for now, here is where we stand on the baby sweater progress (Kim, It is looking like you will be getting at least one of these too! So cute and nice!)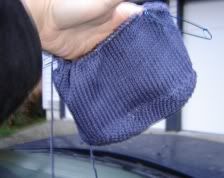 Details for
LeAnne
:
The pattern calls for a 24" US7 Circular. I'm using a 12" US7 Circular since I could NOT for the life of me get the stitches around the 24" circular. I would have used a 16" one if I had that but I didn't so the 12" works too. The 24" does not!
Oh and Happy Black Tuesday everyone! (No, I'm not bitter, this is a joke between a friend and I)