Where I write
Blue Dog
asked us to show her what we write our morning pages in and to show her our journals.
This is my journal. I purchased it at Target for $2.99 and I think it was one of the best journals I've ever purchased. I usually spend way too much on a journal that I can't really write in or am too scared to sully with my handwriting because some journals are so beautiful that no handwriting seems worthy enough to be inside their pages.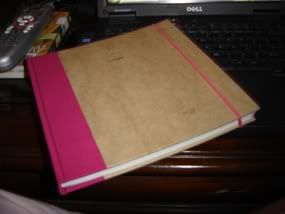 This is what makes this journal so perfect for me. It is beautiful to me and yet so very useful. My writing flows across its pages until three pages pour themselves out.
And for
Meg
and Carrie, BRING IT GIRLS! The fight is back on!