Corners of My Home - The Desk
I've been meaning to tidy up my desk area for some time but something always seems to grab my attention or something distracts me from my ultimate goal (Let's be honest -- it is usually the Internets) but after a day of working from home, I decided to take this corner.
I gathered up the mini sweaters I've made and strung them up above my calendar. I hope to add a bulletin board where my calendar currently sits but that will come later.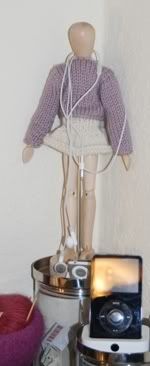 Then I stacked some glass containers up in the corner of the desk. One of them holds yarn ball labels while another holds some pretty yarn for mittens (these came from my Better Paln of long ago,
Sandy
). I need to get these mittens made so I can wear them and I'm hoping that if the yarn is right where I can see it, the inspiration will be there for the knitting.
On top of these containers, I propped my iPod and my Artist Model. Her outfit still needs to be completed but for now, her jaunty skirt and cozy sweater work for me.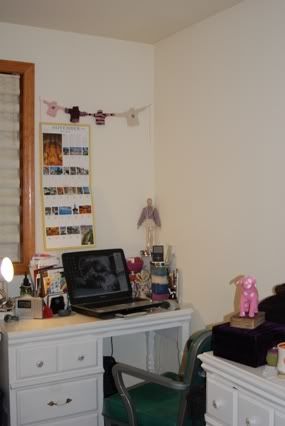 All in all, my little desk is tidied up and my little corner feels more welcoming!