NaKniSweMo Goals and Plans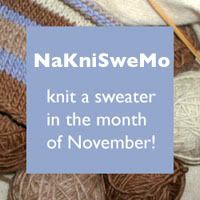 As many of you know, I'm crazy and I've signed up for three "blog-events" this month. One of which is NaKniSweMo! The basic concept is that you knit an entire sweater in the month of November but Shannon has also stated that, "We don't need no stinking rules!" I embrace the "No Rules" attitude and have decided to set two sweater goals for myself this month which in turn will be able to help me finish TWO sweaters.
Goal #1 -- The Purple Sweater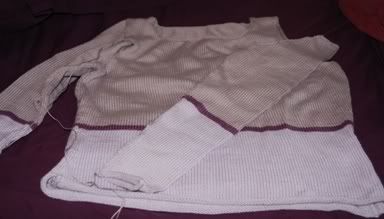 My goal for this sweater is to finish seaming up the sweater. All that needs to be done is the final sleeve attachment. Once I attach the sleeves, this sweater will be complete. Best part of this plan is that
Meg
and
Jessica
will be able to leave me alone!
Goal #2 -- The Hourglass Sweater in Green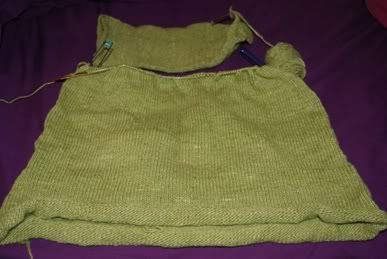 I've knit the body of this sweater up to the sleeve and am about halfway through the first sleeve. My goal for this sweater is to finish it up by Thursday, November 30th.
Yep, good goals.
Writing goal for today is to actually finish the 3,058 words I need to write so that I am on track for my 50,000 word novel. Geesh!