Winning the Unofficial Scarf War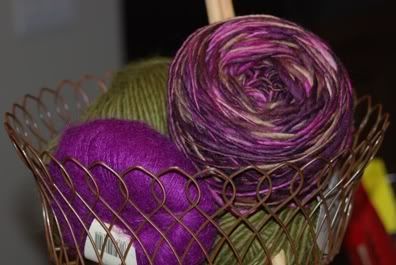 On October 20,
Meg
and I visited Hilltop Yarn so I could gather my supplies for the Purl Scarf. Meg was in the process of making one herself and I was in lust for her new scarf. She told me that she didn't want me to finish my scarf before she could finish hers. That is when the
Scarf War began
as I can not resist a
challenge
.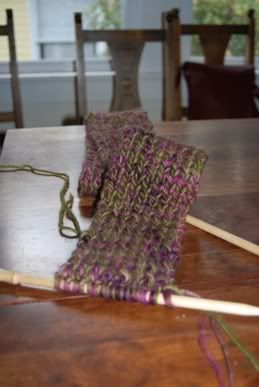 And so last night while working on my NaNoWriMo Novel, I knit on my Purl Scarf when I needed a break from writing to think about the next step. In the late hours of the evening, I cast off from the scarf and abandoned the novel to attach the lovely fringe. I used three pieces of the yarn for each fringe "batch". The pattern directions do not indicate how much to use.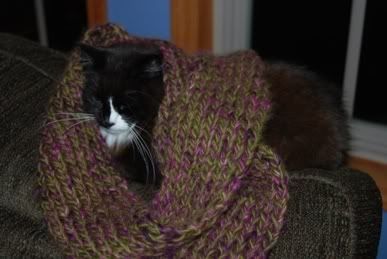 Destiny loved the scarf so much, she agreed to model it for me.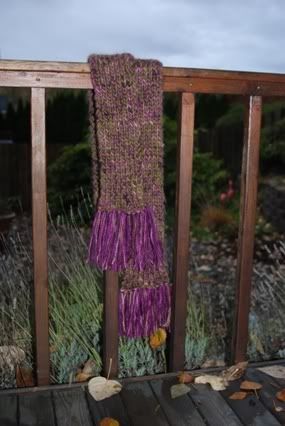 I had to wait until this morning to take a proper picture of the scarf in all its finished glory.
I think I won this battle!
Scarf Notes
Started: October 20, 2006
Finished: November 3, 2006
Pattern: Purl Scarf from Last Minute Knitted Gifts (4-6 hours section)
Yarn: Manos Del Uruguay in 118, Rowan Kid Silk Haze in 579 Splendor & Nashua Creative Focus Chunky in 4899 Khaki
Needles: US15 Straight
What I would change: I might make the next one a bit shorter if the recipient is short like me. This is a massive scarf coming in at 104"!