Three Simple Steps to Making Your Brain Explode!
1. Sign up for
NaNoWriMo
.
2. Sign up for
NaBloPoMo
. Check out the cool
NaBloPoMo Randomizer
!
3. Decide to sign up for
NaNoSweMo
(National Sweater Knitting Month) KAL. Or is it now called NaKniSweMo? Anyhoo, I'm CRAZY!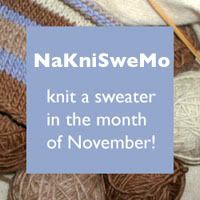 Now excuse me, I have to get back to writing...I've only written 700 words since yesterday which puts me about 3,300 words behind on my novel goals! YIKES!