Destiny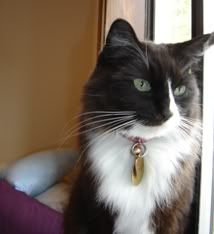 Last week, Destiny went to the vet for a wellness check-up and I decided to fork over the big bucks for a Senior Wellness Blood Test. I'm glad that I decided to spend the money now because Destiny is slipping protein into her kidneys.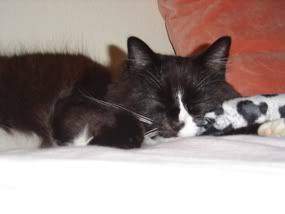 I'm not exactly sure what that means for Destiny overall but today she is at the vet having an ultrasound to check out her kidneys.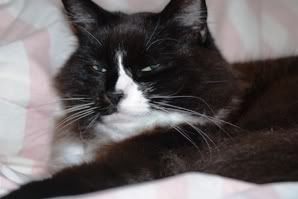 Tonight when I pick her up from the vet's office (they are open amazing hours from 7 a.m. to 9 p.m.), I will also pick up some new Prescription food for her. I guess the Iams won't cut it for her any longer.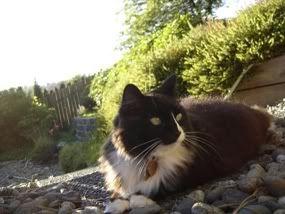 Destiny is lucky that we live with my parents because she'll receive extra care and love from them. My Dad will be placed in charge of her evening feedings since they will be changing and she'll eat anything he gives her.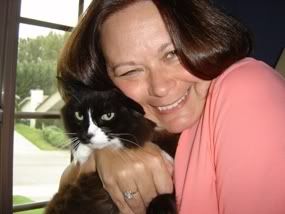 Currently I leave out a HUGE bowl of cat food for Destiny and she nibbles away at it. Sometimes she gets a few bits of wet cat food when she asks for it. Now she'll have some dry food out all the time but will have nightly feedings of wet food. The vet expressed some concern about her liking the food but I'm hoping that she doesn't decide to be a picky eater.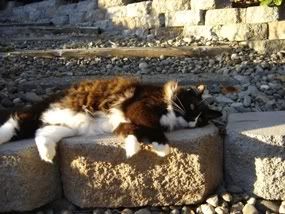 So while I'm worried about my kitty, I've decided not to freak out just yet. I might after I hear about the ultrasound and what their long-term prognosis is but for now I'm not FREAKING OUT!
*These photos are ones I've taken throughout the year of Miss Destiny for my Daily Photo Challenge.