Ahhh that new car smell…
Yesterday I went out to look at cars, not to buy a car. I brought Mot along to keep me from getting car fever and purchasing a shiny new car. Well that didn't work BUT I did get myself a great deal!
We made our way down car row and stopped at various dealerships to check out the cars. The Nissan Dealer was closed and so we went on to the Dodge Dealer. My Mom had mentioned that that the Stratus Coupes looked like nice cars so we went in to investigate. The car salesman that assaulted us was named after a Lord of the Rings character so after deciding to ignore him and focus on the car, I felt a flutter of excitement.
Mot climbed in the back seat of a blue one and said she felt super comfortable. She said she liked riding in the back seat of this car. So we went on a test drive. It was wonderful. The car hugged to road, there was a CD player (I've never had one in a car of mine before) and a really cool remote trunk opener. But it did not have a sunroof and I really enjoyed my sunroof.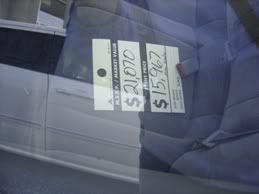 Mot also noticed a sticker saying the car was $5,000 less than the window sticker. We asked about it. It had been left in there on accident from the previous weekend but the manager agreed to honor it that day. I said, thanks but I needed to go look at other cars. I NEEDED to look at the new Saturns.
I was excited, I could feel my breath shortening as we neared the Saturn dealership. I mean the Dodge was cool and all but I could get a new SATURN! Wheeee! I whipped into the dealer's lot and quickly asked to see a Saturn Ion Coupe.
As we rounded the corner, my heart sank. The car was boxy. Where was the sexy, sleek looking car I used to drive? This was supposed to be just like it but with a third smaller door. So we took it out for a test drive. Mot did not like the back seat and made sure to let me know. This car had power but did not hug the road. It had a CD player and a cool temperature gauge on the rear mirror. It had the sunroof I really wanted but it did not have the comfort.
I was sad though, I did not love this car. And the price was $7,000 more than the Stratus. Mot and I quickly conferenced in the parking lot, I called my Dad. We agreed to meet at the Dodge dealer in an hour. Mot needed a dipped cone first.
We whipped into the lot and my Lord of the Rings salesman came out. I asked him to bring my new car around. Mot and I crawled around in it until my parents showed up. Then I left my Dad with the salesman so I could fill out paperwork. I figured if he said no go, I would stop the paperwork but if he agreed with me, then I would be ahead of the game. He said it was a go after a short test drive. I think he liked driving the car. Then he left me alone to do all the stuff alone! GASP! I'm not old enough to do that!
Poor Mot was left in the lobby reading old magazines and thinking about dipped cones. I got my car keys and she drove my Dad's car back to my parents. I followed and more car gazing happened. So in the end, I got a fantastic deal on a new car and I'm paying less a month than I did on my Saturn. It all worked out. I may not have a sunroof but I have everything else I wanted.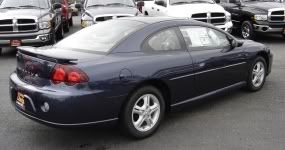 So while Sunday was spent car shopping, Saturday was spent running. Stephanie and I completed our 19 mile run but due to trail closures ended up running closer to 21 miles. I was begging for Advil as we closed in on our cars. That last mile was extremely hard and painful but we got through it. Stephanie and I kept each other laughing and I think our extreme tired-ness kept us from breaking down. Our rewards were Grande Soy Chai Tea Lattes at a friend's coffee shop. She also gave us muffins! The best part – no pain! I took a few Advil and was good to go. My foot was a bit cranky the next day but I feel good and now I feel confident about my race. I will get it done and I will do it in style. I honestly think I could have run 5 more miles on Saturday if I had been forced. I didn't want to and I'm glad I didn't have to but I could have…