Nearing the Finish Line
I'm slowly and steadily getting closer to the finish line on my
Colinette Vintage Knits Poncho.
I've finished one piece and am halfway through the second piece.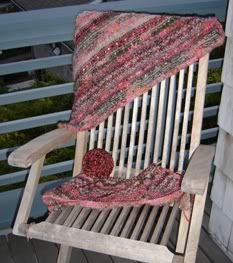 I have plans to wear this funky piece this weekend while out car shopping. Maybe it will influence car dealers to lower the car price due to my knitting abilities! Look for another photo shoot as soon as I finish stitching away.
My third day on
Weight Watchers
is going well. My biggest issue is that I need to figure out what to eat during the mid-afternoon slump. I've been getting headaches and that can't go on.
And I'm so happy that Chip and Kim won
The Amazing Race!
I do think they were the most deserving though my Father disagrees with me.