Riding the roller-coaster
It's already been a rough week. I know, I know, it is only Tuesday but let me tell you, it's been a roller-coaster already!
Yesterday morning, I went to the dermatologist for a quick update on my skin. He's put me on some antibiotics which will hopefully clear up some of my major break-outs. He was also on-time for my appointment which ensured that I arrived early to work at 8:15 a.m. That was the good part of the day.
Later in the day, I called the repair shop about my car (remember when I was
rear-ended
a few weeks back?) which was supposed have been repaired. Well, that is when the upsetting news came, my car might be totaled.
I know that this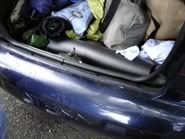 doesn't look like a lot of damage but I guess it's more than $5,000 to fix which means I will be out looking for a new car and adding car payments to my budget.
My Mom did point out that my car was 7 years old and had almost 100,000 miles and that now is a good time to buy a car since I'm living at home. But darn it! I hate being forced into change! I like change but I like change on my terms, when I decide to make the change. Humprhh!
Then onto the good news (well I'm looking at it this way), I joined
Weight Watchers
and updated my motivation on the sidebar. I have my activity levels going strong but my food still needs lots of work. Also if I get skinny, then I can knit up sweaters a lot faster and with less yarn!
This weekend, I also completed one half of my
Colinette Vintage Knits Poncho
. I had a picture but I keep forgetting to download it off my camera which is currently not with me. I have plans to finish it by this weekend and I am currently halfway through the second piece. With the finale of
The Amazing Race
and the premier of other great shows this week, I think I'll be able to fit in some television knitting time.
Toenail Update: It's still hanging on! Mot is still waiting for it to fall off so she can laugh at me. I'm rooting for it to stay on though I'm fine with whatever happens to it.