Finito Dogs
Last night I finished up my Meathead right after visiting Roux and Zubin. I loved making this silly hat on enormous needles.
Roux and Zubin had a bit of a reunion last night. I think they liked it!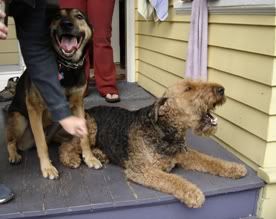 I caught Roux mid-bark!
Zubin looked especially pleased to be back at the Wallingford house which introduced him to the concept of a yard! In fact, he liked the idea of a yard so much, he now has one of his very own and plans to invite Roux over just as soon as he finishes digging some holes and leaving special presents around.
Mom, I like hanging out with Roux. Do you think he can come over to MY place sometime? He'd really like my yard.