Meathead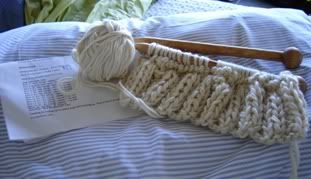 Meatheads, meatheads, rolly-polly meatheads -- I just can not stop humming this tune in my head while knitting on my meathead for
Larissa
. I received this package on Tuesday evening and after finishing Stephanie's scarf last night, I cast on for my Meathead. It's going quickly! I'm sure that I would have finished it last night if I hadn't started so late. I suspect this hat will be on its way home to Portland tomorrow.
And yes, I did mention that I finished Stephanie's scarf. After attempting a cabled wall hanging (Hey! It could have worked!), I decided to turn it into a scarf for Stephanie. It helped that she pointed out how lovely it would look with her eyes and that since I was making scarves for our November trip to France, she would accept this one. Sneaky!
Here is the scarf posing at my latest house sitting location.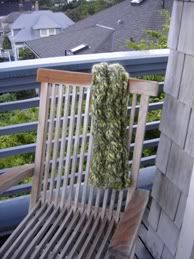 This house is completely awesome and look what view I get to wake up to everyday. I'm a lucky girl!