Hello Mr. Postman!
Yesterday brought my
Debbie Bliss Alpaca Silk
yarn in a delightful orange color. This was my last big yarn purchase before finding out that I would be purchasing a new car and pouring my yarn funds into it. I'll be fine. No need to worry! SEND YARN! (panic quietly settling in...)
A few weeks ago, I swatched for the
Lara
Sweater and today finally decided to wash and block it.
Here it is drying: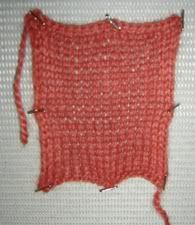 It looks like my gauge is spot on which is very exciting. Now I just need to review the pattern and make sure that it is all straight in my head.
Yesterday I also wore
Elise
for the first time. It may have been for the last time. I was so disappointed that the Cotton Angora yarn shed everywhere. There was yarn fuzz all over my butt (nice and professional at work!), all over my new car, all over my desk chair, basically everywhere!
Has anyone else had this problem? I'm not sure how to fix it! I'm going to wash Elise and see if that helps get rid of some fuzzies.
Toe Nail Update: Still hanging on but I've found out that it's a great tool for grossing out Stephanie and Mot. In fact, Stephanie told me not to speak of it again and Mot flipped out when I showed her my feet.