Offical First Photoshoot
Last night after work, I made my way over to my parent's house for an Elise photoshoot. There was much hand waving, shaking of heads and tsking going on. After trying on Elise, I showed my creation to my Mom who gave her approval. I then asked my Dad to take a photo for me. I should have known it would be hard when he grabbed the camera and wanted to just start snapping photos against a white wall. I told him I had to go outside and I had to do the "Rachel" pose.
"The Rachel Pose? What are you talking about?"
"Dad, It's something I have to do for my blog."
"Who's this Rachel pose and what are you talking about?" Mind you this whole time, he's just taking photos and I'm looking like a dork!
After much discussion, I got my Rachel pose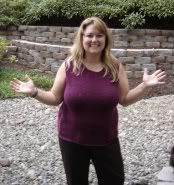 Then Destiny wanted in the action except when I picked her up, then she wanted down. Once she was down, she wanted to be picked up. She's definately a cat!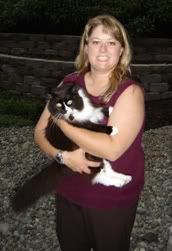 And lastly, for art's sake a final Elise photo.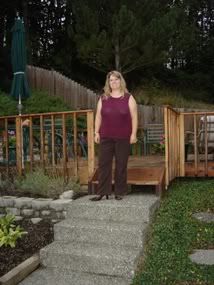 Speaking of
Rachel
, she commented that she lost her first toenail this weekend and that it didn't hurt. Now I'm not as scared about my gross toenail as I was last night when Mot told me it would fall off. I do not like it when Mot tells me the facts. I almost always try to pretend that she is lying to me and just doesn't understand. The most upsetting part is she is almost always right! I do hold out hope at all times though because she has been wrong once or twice before.
My poncho is coming along nicely. Now I just need to stay focused to get it done!
P.S. OHHHHH! I'm mad! Someone stole my pumpkin cream cheese from the fridge here at work. Is nothing sacred!?!