Berry-ness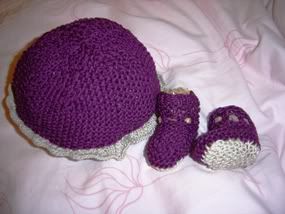 After much adu, I finally finished the Baby Tart Hat and matching booties. I made modifications though. I *just* couldn't do the bobbles, they slowly became the damn bobbles so therefore, I changed the main hat pattern to seed stitch. This meant I quickly finished the hat, therefore no longer calling it the Damn Bobble Hat. It is now known as the Cutest Berry Hat EVER!
And as a side note, Momma M strikes again! I picked up Mot from the airport last night and I found her on the curb with this sign!
I only wish I had been quick enough to have my camera with me! I was laughing so hard! The best and most ironic part was that I had just come from my PurlyGirls meeting!
Ahhhh, knitting.....