Found OUT!
Yesterday afternoon, I was reading some of the comments from my last entry on the Guinea Pig sweater and laughing. I noticed that Matya had commented and her entry was funny! So on my way home from work, I called her and told her that I was on my way to the knitting store to acquire some yarn for a Guinea Pig sweater. Her response was confusion and horror. She wondered what I was talking about and I shouted, "But you commented on the blog about it!" She then said, I haven't been near a computer for days, I've been taking finals. After a second or two, we realized who the culprit was! It was Momma M! MOMMA M! Your wiley ways have been discovered!
Now I must figure out what yarn would be best for a hairless Guinea Pig....
HA! Momma M! Just joking....that would be just a bit too much for one to actually construct!
BUT when I told Mot I was on the way to the knitting store, I really was. I headed over to
Fiber Gallery
for another skein of Manos for my sweater and some needles. I got to chat with
Jessica
and then headed over to Weaving Works to pick up the Jaeger JB34 booklet because I want to make this: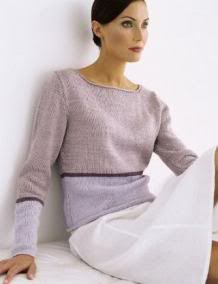 Look at that neckline, the colors, the entire sweater! It's so lovely! Now I just need to find some Jaeger Aqua yarn in which to make this lovely garment and oh some yarn for that hairless sweater!